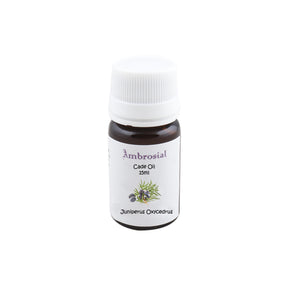 Ambrosial Cade Essential Oil Juniperus oxycedrus
Cade oil is applied to the skin for itching; psoriasis; eczema; seborrhea; and skin conditions caused by parasites, hair loss, scalp condition.

It is also used as a germ-killer in wound dressings.

Cade Essential Oil Uses: Cuts, Dandruff, Dermatitis, Eczema, Spots

Fully processed cade oil ("rectified cade oil") is LIKELY SAFE when applied to the skin in preparations containing 1% to 5% of the oil. These products seem to be safe to use short-term for minor skin problems.

Botanical Name: Juniperus oxycedrus

Common Method of Extraction of Rectified Cade Oil : Steam Distillation and Rectification of the Crude Oil

Plant Part Typically Used : Wood

Color: Generally Light to Medium Brown

Consistency: Medium-Thick

Perfumery Note: Base

Strength of Initial Aroma: Medium

Aromatic Description: Cade Essential Oil smells smoky. It is similar to the aroma of burning wood or tar.

Cade oil is applied to the skin for many different uses, but there is no good scientific research to support the use of cade oil for any medical condition.
---